Bank holidays: banking on taking time out?
(Posted on 17/03/21)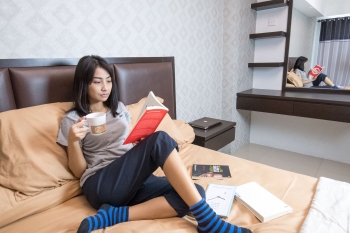 Did you know that up until 1834 there were 33 public holidays in the UK? These included many saints' days and religious festivals. The number was cut right down until, by 1834, there were only four left.
Luckily for those of us who enjoy taking time off, a liberal banker, called Sir John Lubbock, drafted the Bank Holiday Bill in 1871. Initially, these days off were only for banks and other financial institutions but other businesses, shops, schools and the government itself soon jumped on the bandwagon.
How many bank holidays is too many?
Today, in England and Wales we have eight bank holidays every year. Scotland and Northern Ireland are slightly better off with nine and 10 respectively. We're a long way behind India, which enjoys 21 public holidays a year. In fact, the only country to have fewer public holidays than us is Mexico, with a paltry seven. Many of us make the best of our ration though, with a little strategic planning making it possible to revel in several long weekends over the course of a year.
Some might argue that our relatively small number of public holidays explains why they are so important to a lot of us. In a normal, pre-COVID time, bank holidays spell traffic chaos, long queues at attractions and beauty spots and, seemingly inevitably, disappointing weather.
In our 'new normal' it may be hard to feel even remotely excited at the prospect of the long Easter weekend with its double whammy of two bank holidays. It might even be a challenge to think of something to do with two long weekends in May, particularly if it pours with rain throughout.
No time to stop?
Taking time to enjoy a day not working may not seem appropriate right now. Fears over job security or your business' future, set against a backdrop of job losses and economic uncertainty make this very understandable. However, from a business point of view, not taking time to stop will inevitably have a very negative impact on our productivity when we are working. Our mental health will also suffer.
Pre-Covid, the problem of many workers being 'always on', checking emails on the way to and from work or taking calls no matter what, was frequently highlighted as a contributing factor to stress and even burnout. Working from home, where there is literally no physical escape from the workplace, has only exacerbated the issue. The temptation, especially with every day being much the same as the one before and the one before that, is to keep your head down and keep going.
Thanks to lockdown, we are unable, at the time of writing at least, to go away properly for a bank holiday weekend or even enjoy an indulgent midweek night away. However, with protecting our mental wellbeing more important than ever, it is really vital to step away from the computer, mute your messages and turn your phone off. Hopefully, come the bank holidays, many other people will be doing the same.
Taking the time 'off'
We can't get away but we can still enjoy a break from our usual working from home routine. Get up later. Indulge yourself by binge watching something you might not normally consider. Enjoy a virtual theatre trip, thanks to endless number of shows and plays that are available online. Or go offline completely and tackle the tower of books you still have not got round to reading, even a year on from the first lockdown. Potter in the garden for a whole day, rather than trying to squeeze in an hour of pruning or planting here and there.
If you take a proper break, even if you don't step outside your garden, not just your mental health but your work performance will be the better for it too.