Blood Bikes' first female rider in North Wales
(Posted on 06/02/19)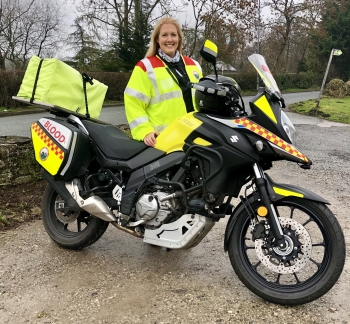 We were delighted this week when our client and friend, Maja Kenney, featured on ITV News Wales. As well as owning The Admin Office, a virtual executive assistant business based in North Wales, Maja is a motorbike enthusiast. After taking extensive training she passed a challenging riding test to become a fully-qualified volunteer rider for Blood Bikes Wales - the first woman in North Wales to do so. An ITV film crew accompanied her on one of her regular routes and interviewed her for the programme. You can watch it here. A number of fellow biking enthusiasts have already been in touch with Blood Bikes Wales to see how they can get involved too.
Blood Bikes Wales is an enthusiastic team of volunteers committed to using their time and skills to help the National Health Service (NHS) in Wales. It is a member of the Nationwide Association of Blood Bikes and shares its goal to provide a reliable, free, high-quality service to health trusts throughout the country. Blood Bikes Wales provides the NHS with out-of-hours transport to move blood supplies, plasma, documentation and other items between hospitals, which saves substantial sums of money that can then be used for frontline care.
For further information on The Admin Office visit https://admin-office.co.uk/, or read more about the lifesaving work the Blood Bike riders carry out at https://bloodbikes.wales/.