Bringing a taste of Latin America to Chester
(Posted on 28/10/15)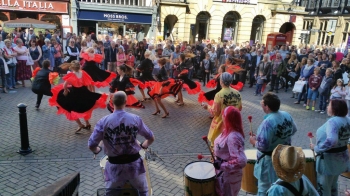 Over the past few months we have been getting into the Latin American spirit, providing PR and event management services to the restaurant chain, Las Iguanas. Las Iguanas has recently opened its new restaurant (Monday 28 September) on Pepper Street, Chester as part of an £8 million project called the Dining District Development. We worked with Las Iguanas to help promote the opening and launch evening, spreading the word around Chester.
To engage the general public in Chester and ensure the opening of Las Iguanas was celebrated, we held a pre-launch event in the city centre. Samba drummers and dancers paraded around the main shopping streets in a Samba carnival. Promotional offers were handed out and a Twitter competition ran to win a £100 meal voucher. Crowds gathered, and locals and visitors alike got to experience a taste of Latin life. On the opening week of Las Iguanas we organised a VIP evening for the restaurant, inviting local guests and the Mayor of Chester. The evening saw the guests sample the new menu and drinks whilst the press photographed the ambiance of the evening.
Alongside the event management, we also helped spread the word about Las Iguanas by providing a number of press releases to the local press and organising a competition to win a £150 meal voucher in the Chester Chronicle. Our aim was to reach as wide an audience in Chester and the surrounding areas, ensuring that the new restaurant received a warm welcome.
Commented Katrina McGrath, Las Iguanas brand communications manager: "We needed a company that had great local knowledge to help us integrate the new restaurant into Chester. Zebra has helped us create a buzz around the city that has drawn customers to the new restaurant. The street event on Eastgate Street really caught the public eye and created a talking point for us, the event reflected the atmosphere of Las Iguanas. We have been very impressed with how Zebra has utilised its local knowledge to benefit the restaurant, identifying key contacts and press, and producing a strategy that has brought the target audience to us."
We thoroughly enjoyed working with Las Iguanas and are looking forward to seeing the development of the new restaurant as its settles into Latin life in Chester. The new restaurant offers a varied menu that suits all tastes and preferences. The food is based around Latin American recipes, with American Indian, Spanish, Portuguese and African influences. It is prepared using authentic cooking techniques and carefully sourced ingredients from around the world. The drinks at Las Iguanas are equally important, with an extensive selection of beers, wines and cocktails, including a number of signature 'Las Iguanas' cocktails.