Celebrating our clients' award success
(Posted on 03/11/21)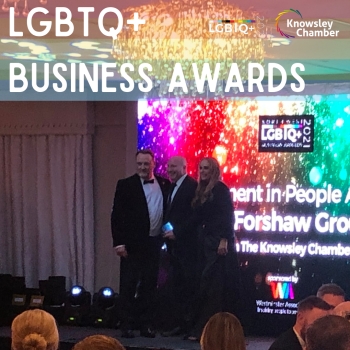 Awards season is firmly upon us, and with some live award events returning and other award ceremonies still being held virtually, each is a fantastic opportunity to recognise and promote businesses and their successes over the past tumultuous year.
We are particularly excited to be celebrating the achievements of several of our clients who have secured awards and shortlisted status:
The Forshaw Group
We are delighted that our residential and commercial property restoration client, The Forshaw Group, received a special commendation in the National Apprenticeship Awards 2021 and was awarded 'Investment in People' in the bonus category at The North West LGBTQ+ Business Awards - a fantastic result and very well deserved!
We wish them luck in tonight's award events, as finalists for 'Partners in Corporate Social Responsibility' in the PFM Awards 2021, incorporating The Forshaw Group's partnership with The INS-Pire Academy, and for the 'Community Impact' award in the Business Desk NW Business Masters Awards.
Scanwel
We're thrilled our scientific engineering client, Scanwel, has been shortlisted for 'Business Growth' and 'Customer Excellence' at The West Cheshire & North Wales Chamber of Commerce Annual Ball & Recognition Awards! The ceremony will be taking place on 12th November 2021 at Chester Racecourse. We're keeping our fingers crossed!
CB Homes
We are extremely pleased that our self-build and exclusive property developer, CB Homes, has been shortlisted in the Build It Awards 2021 for not one, but two accolades. Its recent self-build developments have been highlighted in the 'Best Brick Home' and 'Best Self Build for Under £250k' categories. The winners will be announced at a live ceremony on Friday 26th November, we can't wait to hear the results!
Speak to our team to see how we can assist you to create award-winning submissions and help your business gain the recognition it deserves.