Changing channels – the rise of podcasts
(Posted on 14/10/21)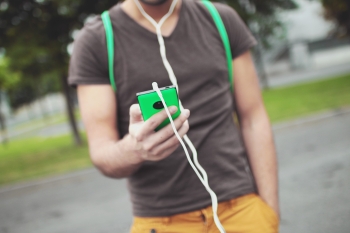 The rise of podcasts as a communication and entertainment medium over the last decade or more has resulted in the term 'podcaster' being an occupation and career. Podcasting's been around since the mid-2000s, but especially during lockdown it's become a great way for people to engage on a range of subjects – from business to pleasure – in the comfort of their own home, in their own space or whilst on the move.
Casting the net wide
Podcast is a portmanteau of the listening device 'iPod' and the word 'broadcast'. A podcast bears certain similarities with radio programming – insomuch as it's an episodic series of spoken-word digital audio files, that a user can download to a device for their own listening whenever they like. Streaming applications and podcasting services help users to manage their podcasts across many sources and devices. Once downloaded they can be accessed at the user's convenience.
A podcast series usually features one or more recurring hosts, engaged in a discussion about a particular topic. Podcasts are available on literally any subject and can be recorded with comparative ease. They can be big, all-encompassing subjects, such as cookery, cinema or football, or more niche corners of interest. A great aspect of podcasts is that they can be as formal or informal as you like. They can be entirely scripted in a rigid format, or completely improvised on the spot. They can also be used in business, as a way of explaining a product or service in an interesting, accessible way, and can be a useful tool in marketing and advertising too.
Engagement and immersion
It's a good idea to build wider content around a podcast, for greater engagement and immersion in the subject. This can include an associated website, with links and show notes, the guest's biographies, transcripts of the discussion, additional resources, commentary and even a forum dedicated to discussing the show's content. These can also be linked via social media and other platforms, to create an overall, wider community around the content. This debate can then inform future episodes and discussions.
A particular advantage for the user is that it's low-cost, as many podcasts are free to download. Some are more sophisticated, more like commercial TV channels, with official sponsorship and built-in advertising. Others are literally two people shooting the breeze on their favourite subject. A podcast can also become a business venture supported by paid-for subscriptions, advertising revenues or an end-product being advertised in the podcast that is available for sale.
Turn on, tune in
Podcasting is a converged medium, as it brings together audio, the internet and portable media players – such as an iPod or phone – into one listening experience. Despite the reference to iPods in the name, a podcast can be listened to on a multitude of devices, Apple or otherwise. Podcasts can be live, or recorded in advance and edited. These will have enhanced production value and can include music and other visuals as part of the overall experience that may not be possible to create in a 'live' environment. Live broadcasts can also be made available, on such platform as YouTube channels, after the fact as archived recordings.
Podcasting has also been seen by some people as a 'disruptive technology', in that they have challenged conventional thinking on audio and radio consumption. It has caused some individuals in radio broadcasting to take stock and reconsider established preconceptions about audiences, consumption, production and distribution. As such, many commercially broadcast radio content – for example, the Radio4 program Desert Island Discs – have been made available as downloadable and listenable podcasts in their own rights.
If you think creating a podcast could be beneficial to your business, area of expertise, or product, then why not get in touch with us today. We can talk to you about the possibilities of creating content that can be broadcast – or rather podcast – to the world.