Gearing up for Black Friday
(Posted on 18/11/21)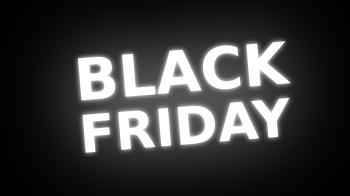 Although the date of Black Friday isn't until the end of November (next Friday 26 November), you'll have to forgive us for talking about it so soon.
However, with searches around 'Black Friday' having already started 12 weeks ago, it's apparent that retailers and customers alike have been highly anticipating this yearly sales-driven event.
With so many store closures made as a result of high streets being forced to shut their doors during the pandemic, brands are evidently trying to make up lost margins and encourage footfall once again through their stores.
It wasn't that long ago that few people in the UK had really heard of Black Friday. Introduced by Amazon in 2010 and coupled three days later with Cyber Monday, it was only when Asda adopted it three years later that it really evolved into the nationwide phenomenon it is today. Not just limited to gadgets and tech, Black Friday has become a staple in the retail calendar for many large-scale brands and independents across the UK.
While there was an increase in Black Friday sales between 2019 and 2020 (£5.6 billion vs £6 billion), this wasn't as high as expected, potentially due to financial pressures caused by Covid-19. This year there is a greater expected increase on spend, as people are set to feel more like treating themselves and their loved ones in the run-up to a Christmas.
With Black Friday almost upon us, we've reviewed some of the things that we can learn for marketing around this event:
Different generations will spend in different ways
Millennials and Gen Z are reported to be more likely to be looking to shop for Black Friday deals (54% and 48%) as opposed to Gen X and Baby Boomers (35% and 15%). However, Gen X and Baby Boomers have more disposable income and so are set to spend more than younger generations of Millennials and Gen Z, with an average spend of £339 and £310. This is a key difference in terms of marketing to varying age ranges.
Where you live might make shoppers spend more
Locality seems to play a part in shoppers' purchasing with regards to Black Friday. According to Finder, people living in London are most likely to do Black Friday shopping (44%), followed by Northern Ireland (42%), the West Midlands (38%), the East of England (32%) and Scotland (31%). Least likely to take part is Wales, where only 24% say they will do some Black Friday or Cyber Monday shopping. The reason for this remains a mystery, but for online retailers based in Wales, there is the potential to encourage a change in perceptions.
How you shop will impact Black Friday
It should come as no surprise to hear that online Black Friday shopping easily outstrips the high street. However, it is interesting to note that this year 44% of both men and women surveyed said that they will shop online only. Another reminder that all websites should be optimised for mobile use as that is increasingly the method of choice for web browsing.
According to Google, people are five times more likely to leave a site if it is not optimised for mobile and more than 50% of mobile users will leave a website if it takes longer than three seconds to load. Mobile-friendly content is therefore a must.
Talk to us about how to make your brand stand out from the crowd or ways of refreshing and updating your website content and design.