In the spotlight
(Posted on 19/12/14)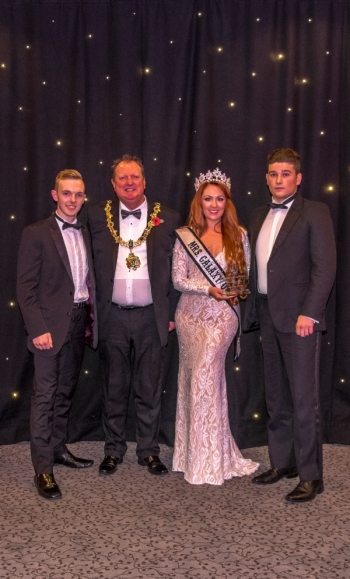 November was a busy month for Zebra, filled with lots of events and plenty of reason to be celebrating. Our third sector clients, in particular, have been in the spotlight for an array of good causes. Empowering Youth Foundation held a masquerade party, Barnstondale and Stick 'n' Step won awards and Stick 'n' Step went one step further, hosting its own Awards Ball too!
We attended Stick 'n' Step glittering Ball on 8 November. Held at Thornton Hall Hotel and Spa, the Ball marked the end of this year's 50/50 Challenge and included an awards ceremony to celebrate the fundraising efforts of participants. 36 businesses collectively raised over £42,500 and an extra £10,000 was raised on the night. In attendance was the Mayor of Wirral, Cllr Steve Foulkes, alongside Mrs Galaxy UK and Pete Price as compere.
Just a few days later, on 14 November, we helped put together the final arrangements of Empowering Youth Foundation's latest fundraiser – the Party at the Palace. Zebra's director, Clara, sits on the board of Empowering Youth Foundation and so we actively support the charity wherever possible. This time, we were asked to fulfil some rather unconventional tasks – not least the writing of a murder mystery plot. The whole team put our event organising skills to good use, helping to make the venue party ready on the day. We were also on-hand to meet and greet guests as they arrived. It was a fantastic evening and we're already looking forward to next year's masquerade massacre!
Our account executive, Sian, then joined staff from Stick 'n' Step at the Liverpool Echo Pride of Merseyside Awards, where they won the Jaguar Land Rover Charity Organisation Award. The evening was held at the Isla Gladstone Conservatory on Friday 21 November. Local celebrities, alongside hosts Jessica Fox and Craig Phillips, presented various awards to Merseyside's most inspirational people.
Barnstondale's big win came at Wirral Globe's Unsung Heroes Awards. On Thursday 27 November, the people of Wirral came together at the Flora Pavilion in New Brighton to celebrate its superstars. Barnstondale's long-standing volunteer, 79 year-old John Earp, was commended for his commitment to improving the charity's accessibility for wheelchair users and won the Contribution to the Community award. As well as securing £15,000, John oversaw the construction of a wide path that now allows a jeep and modified trailer to transport wheelchair users safely to Barnstondale's 12acre woodland.