Instagram's new business profiles and tools
(Posted on 05/07/16)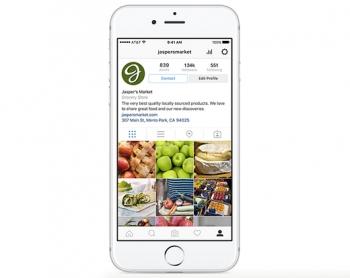 As a social platform, Instagram boasts over 300 million active monthly users and impressively over 30 billion photos have been shared since its creation. But despite its mammoth potential, Instagram has been stereotyped as the social network for serene sunsets and well-staged foods. However, this all may be about to change with the introduction of Instagram's new business profiles. Whilst Instagram's new business features don't exclude any businesses, it's good to remember that Instagram works best as a metaphorical shop window, and may cater more to businesses with products or items to sell.
Three new features are due to be introduced to make Instagram a more lucrative platform for your business.
Business profiles
Business profiles are a free feature for accounts that want to be recognised as a business. With a business profile, businesses can choose how they want their customers to get in touch with them: call, text or email with a tap of the contact button as well as get directions.
Insights
Insights on Instagram allow you to track follower information. Instagram can tell you who your followers are and which posts resonate better than others, all simply from your mobile app. By learning more about the behaviour and demographics of your audience, you can create more relevant and timely content. This feature will allow businesses to learn what does and doesn't work on Instagram.
Promote
The promote feature lets you turn well-performing posts into ads right within the app—helping you connect with even more customers. Simply pick a post you've already shared on Instagram and add a button encouraging people to take action. You can select a target audience or allow Instagram to suggest targeting for you. After that, your post will be promoted as an ad for any length of time you choose.