Knower's arc
(Posted on 12/08/19)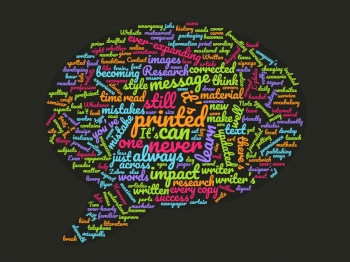 …otherwise known as the 'Learning Curve'. As writers we like to think that we develop over time. It's one of those jobs where it's never too late to learn new things. From an ever-expanding vocabulary, to becoming an expert on subjects that you're not always familiar with, a writer's learning curve is an arc where the end is always in sight, but is never quite reached.
Two aspects of our craft that we are constantly developing are the ways we research and learn. Research methods are changing, with the internet ever-expanding and printed literature becoming ever-more out of date. As soon as a book is printed, it's of its time, while a website can be updated daily, even-hourly, with new material and research findings, so it never becomes 'history'. Before publishing, printed material must be read and re-read, to ensure no typos, formatting errors or other mistakes make it into the final copy. Website copy can be drafted and read many times, but still corrected in an emergency if needs be. Even as websites can be updated or corrected at the touch of a button, high editorial standards are still crucial to making the right initial impact. It doesn't give a very good impression when a site visitor – or worse still, a client – points out a glaring mistake.
Attention to detail is vastly more important on a printed item. When you've had 500 brochures printed, you don't want to be the one to have to break the news that there's a spelling mistake on the cover which misspells the company's name (worst case scenario) or the wrong telephone number has been included (pity the actual number's owner). These are not the kind of mistakes that can survive being spotted at the eleventh hour, just prior to a seminar, launch or event.
Research is a key aspect of writing. Whatever type of writer you are – from a journalist or ad copywriter, to an author or marketer, your aim is to write well and with more style than everyone else. Written words are all around us every day.
However you experience the written word, look at how web pages, magazine articles and newspaper stories are set out – both images and words – to make the maximum impact and also be user friendly. Note how font style and size can draw your eyes to certain parts of the article, or how sometimes less is more and images are given prominence over text. This isn't just present in print media and online. The impact of design and text can be the livery on vehicles, signage on shop facades, even wording on menus in your local restaurant, packaging on your lunchtime sandwich, or that flyer someone handed you on a train. It all contains information, it's getting a message across. And it all has to be composed, written, designed and approved. In every instance, the writer's (and designer's) success – your success – depends on whether you notice, digest and understand the message.
No matter how proficient a writer you become and how well you think you've mastered the art, there's always room to learn, evolve and improve. It's one profession where you never lose your L-plates. Contact the Zebra team to find out how we can help you get your message across.