Lights, camera, action for Stick 'n' Step
(Posted on 15/11/17)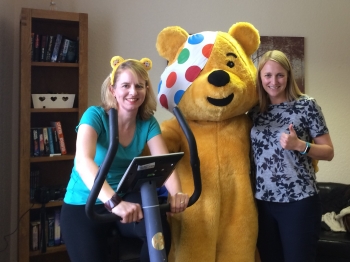 It's been an action-packed three weeks for one of our clients, Stick 'n' Step, with the charity featuring on Granada Reports, North West Tonight, The One Show and local radio.
Stick 'n' Step provides free conductive education sessions to children with cerebral palsy and has been established with a centre in Wallasey since 2002. Last month, the charity opened its second facility, this time in Cheshire. A former office building, the new centre in Runcorn has been transformed with a large bright classroom space with specialist equipment for the children's sessions, a state-of-the-art sensory room, fully accessible children's toilets, a sage bathroom, a comfortable parents' room, kitchen and office space for staff. The acquisition of this new centre was made possible thanks to backing from major funder the Steve Morgan Foundation, which bought the building and funded the massive refurbishment required with a commitment of £260,000.
We were pleased to be present when Steve Morgan himself toured the centre once it was open and we were delighted when the BBC sent one of its North West Tonight presenters plus cameraman to cover the visit, film a conductive education session and conduct interviews with Stick 'n' Step's Chief Executive Amy Couture, Steve Morgan and parents of some of the children attending a class. The BBC visit came hot on the heels of Granada's early tour of the centre when a reporter came to cover the story of four year old twins Luke and Jack, who attend the centre and are hoping to have potentially life changing surgery. Meanwhile, over in Wallasey, another Stick 'n' Step attendee had been selected to join the team for The One Show's Rickshaw Challenge, a fundraising initiative for BBC Children in Need. As a result, The One Show sent a film crew along to Stick 'n' Step's centre to record 17 year old Luke taking part in one of his usual conductive education sessions.
It's been fantastic to be involved with such an exciting period in Stick 'n' Step's development and very gratifying to witness the interest shown by TV channels in a regional charity, which does so much good for local communities.
Chief Executive of Stick 'n' Step Amy Couture said, "It made such a difference to us to have Zebra there to support us during the media interviews. I think it really helped us land the right Stick 'n' Step messages."