Making New Connections
(Posted on 28/10/20)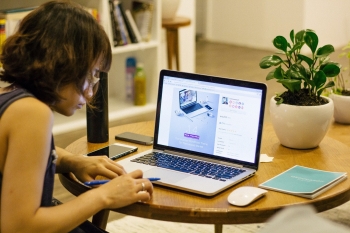 The virus and lockdown in the UK has affected every part of our working lives, from 'working from home' to the extra space we need in business premises to accommodate social distance. One of the most marked changes staff have made during the pandemic is the way we communicate, both with our colleagues and our clients.
Virtually meeting up
When the country went into lockdown in March, anyone who could work from home, did. This included teachers, who continued to deliver lessons to their students remotely, and a wide range of office-based professions. The way teachers and university lecturers were able to stay connected to their students – sometimes all across the globe – has been emulated in the business world. The rise in meetings carried out remotely using laptops and the internet has meant that teams have been able to stay connected and discuss issues, as though they were sitting around a table. The laptop screens can include a number of participants all in view, in a montage – but the more participants on view, the more the meeting will resemble an old TV episode of University Challenge.
Office space required
Video conferencing platforms such as Zoom and Teams (other platforms are available!) have made things very easy for home workers. Once you have mastered the set-up, these platforms are simple to use. All you need is a computer, an internet connection, and a plain background, and you could be anywhere in the world, doing exactly the same job as someone sitting in a high-rent, city centre office. This reality has not been lost on managers when they have been co-ordinating their teams from home. Going forward, requirements for traditional office space may evolve to reflect our newfound confidence in working from home.
Business hubs could be an interesting solution, with smaller numbers of workers present for shorter periods of time. The turnover of staff in offices will lead to more flexibility becoming the norm. Working three days in the office and two days from home will enable managers to limit the number of staff onsite at any given time. As long as working from home remains an option, some will stick with it, especially if they would otherwise have a long and tedious commute, or parking charges, to travel to their workplaces.
The real world
However, it is important to remember that a busy office environment actually suits many people – if you are a small team, for example, who can easily remain socially distanced in an office space. The basic logistics of getting hundreds of staff into high-rise offices, using elevators and staircases, has hindered the return to work for many larger firms. For some staff, resuming the routine of 'going to work' will be welcome, while for others – spending more time with their families, saving on travel costs, etc. – working from home, remotely, is an ideal realised. As long as their motivation and productivity aren't affected, who could argue?
Sometimes however, there is no substitute for actually meeting face-to-face. This is particularly true of client meetings, especially early in a working relationship, when objectives are being defined and partnerships forged. There is also no substitute for the group dynamic of working in an office with a team of people. Ideas are bounced back and forth, not just in a formal meeting, but in an informal, conversational manner. Such working methods, sometimes termed 'creative combustion', simply can't be replicated remotely or via a video conference.
Whatever the future holds, many of these Covid-imposed office innovations are going to be with us for some time to come.