Making the case for case studies
(Posted on 17/02/21)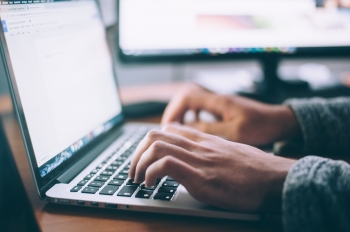 In today's crowded marketplace, it's more important than ever to be able to stand out from your competition. Anyone can say how great their business is but you need to be able to cite real life examples that demonstrate the genuine difference your organisation has made to your customers. This is where case studies, which outline positive real-life experiences in a practical situation, come into their own.
If you try to explain to a potential customer how well one of your products performs, one of the first questions you are likely to be asked is how you can back up your claims. A well written case study is a highly useful promotional tool and a great way to explain what you do, or to demonstrate the effectiveness of one of your products or services.
Great case study. What's in it for me?
When it comes to writing a case study, you need to tell your audience a story. The most important part of this story is how your input helped your customer. Perhaps it saved money, boosted productivity, increased energy savings, freed up hours or reduced downtime. Look at the information from a potential customer's point of view and keep the important question, "What's in it for me?" front of mind the whole time.
Firstly, set up the story. How did a problem arise for your customer and how was it identified? What was the issue or the problem that needed to be solved.? Perhaps it was a question of compliance, with stringent regulations needing to be adhered to. On the other hand, it might have been a desire to increase efficiency or boost production, owing to fierce competition in a particular marketplace.
Next, how did you address the problem. This is your opportunity to explain clearly and concisely exactly what your organisation did. However complicated the subject might be, avoid lots of jargon, make sure you use language your target audience is familiar with and can easily understand.
Lastly and possibly most importantly, what is the measurable impact you have had on your customer's business. Can you state the amount of money saved, or put a figure on the reduction in energy used or production time spent?
Creating interesting content
When it comes to promoting your business, everyone is always on the lookout for credible content for marketing purposes. Once you have a bank of interesting, well-written case studies posted on your website, you may find that this is the first port of call for potential customers. These people want to see how you solved problems for businesses just like theirs. Case studies provide great content for your social media too, encouraging traffic to your website to find out more.
Internal communications
Case studies are an excellent way to communicate with external audiences. Make sure that as well as publishing a case study externally, you also share it internally too. Case studies can be a powerful tool for your internal communications strategy, providing a real morale boost to your workforce. Showcasing your work will help motivate your employees as it shows what everyone's hard work can achieve. The case study can also create an opportunity to identify, acknowledge and credit particular departments or individuals, for example, that have made an especially significant contribution to a project's success.
Case studies can offer invaluable value
Our client Lucy Powers is Director at land surveying specialists Powers and Tiltman. She explains how developing a library of case studies is helping support her business. She says:
"Our work is extremely technical and involves highly sophisticated technology. It can be quite hard to explain the theory of exactly what we do. We have found case studies to be absolutely invaluable when it comes to communicating our skills and experience to potential customers. They are a really great way of telling our story in an engaging way, while showing the breadth and depth of our capabilities."
You can find some examples of Powers and Tiltman's case studies here www.powerstiltman.co.uk/projects.
To find out how case studies may be able to help your business, contact the Zebra team.