Marketing Week Live 2016 #MWL16
(Posted on 03/05/16)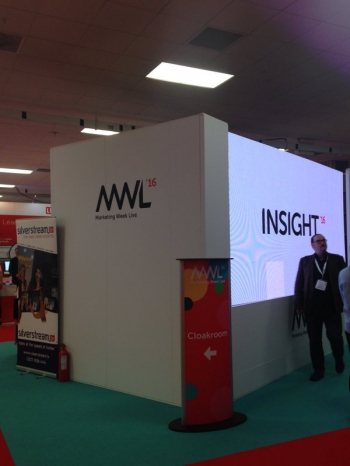 We thoroughly enjoyed a trip down to London on Wednesday (27 April) to pay a visit to the Marketing Week Live exhibition, which took place at Olympia in Kensington. As a small PR and marketing agency, we believe it is vital to attend events like this, to stay on top of the latest trends and opportunities for marketers. The exhibition stands were filled with creative and interesting companies that offered a range of solutions from app services, email automation, communication management to merchandising and exhibition stand building. The event also hosted a number of talks throughout the day that were informative and focused on key subject areas like branding, partnership marketing and email automation.


The first talk we attended was on the benefits of partnership marketing for businesses. Promoting alongside another company within a partnership can be done across multiple platforms. These partnerships mutually benefit each business, with the opportunity for both to target and increase brand awareness with a wider audience when combining the two companies' customer base. The second talk we stopped to watch was on email marketing automation, explaining the importance of well-timed, targeted and specific emails for driving traffic to your website and creating a demand.
Whilst walking round the exhibition talking to other marketing experts, we came across some very interesting exhibitors. One that particularly caught our eye was The Mix, a research agency that specialises in understanding the needs of different generations. The Mix made a statement – 'generation Z (20 year olds or younger) are nostalgic about traditional values' – and were asking people whether they agreed with it. Although the split on true or false was fairly equal, research has shown that this statement it true. Generation Z has been brought up around technology and social media, they are savvier and understand all the associated risks. This in turn means that marketing to this generation needs to take this into consideration, possibly leading to a more integrated marketing approach, with an increased focus on traditional marketing methods.


We thoroughly enjoyed learning about the new trends arising and new technology available to marketers at Marketing Week Live and can't wait to see what next year will bring.