Podcast prep – getting ready for a podcast appearance
(Posted on 26/01/22)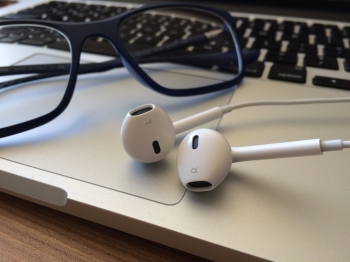 During the pandemic we've all become stars of the small screen. With many of us working from home, meetings have predominantly been held via online platforms, such as Teams and Zoom. This has been great news for most people, who have been able to continue to connect with other team members, and managers have been able to carry out weekly meetings and catch-ups. What it has taught us is that even the most anti-tech among us have had to embrace these technologies – often through necessity – and get used to using them on a weekly and sometime daily basis. It has however also given many of us confidence that appearing on screen isn't as bad as we'd imagined. It's made us more used to the sound of our own voices and how we come across onscreen to an audience – be they two, 20 or 200.
Be our guest
This new confidence and use of technology is an interesting – and beneficial – development, especially in an era when podcasts are popular and a great way to inform and connect with an online audience. They are even subverting radio as a way for listeners to find out about subjects and to hear interviews with key figures from all walks of life – from politicians and popstars to charity founders and chefs.
If you are invited to appear as a guest on a podcast, there's no need to panic. As a guest, the ball is in your court and if you are being invited on to impart expertise, the interviewer will be on your side. We're not talking Paxman here. They won't be trying to catch you out, or make you look an idiot. It does their show no good at all to have 'expert' guests that are made to look as though they don't know what they're talking about. So, there should be no nerves in that regard.
Audio-visuals
Some podcasts are audio only, while others are onscreen, in the manner of the Zoom call. For both the audio and visual options, you'll need a decent microphone. The in-built ones on most laptops aren't that great and at the very least you should invest in a half-decent one. There's an array of makes available at relatively little cost online, but obviously the more expensive and professional the mic, the better the sound quality. Another option is a headset/microphone, which will allow you to hear the interviewer and other guests, and it will also have a microphone that you can use. They look a bit airport controller/switchboard operator, but are better if you have background noise, such as passing traffic, encroaching in your location. The in-built camera on most laptops is good enough for a podcast, but if you're unhappy with the results, invest in a webcam.
Lines of questioning
If possible, ask the podcaster/interviewer what the questions will be in advance. This isn't always the case, but forewarned is at least forearmed. Sometimes the interviewer will be after that spontaneity that comes with not having a pre-prepared answer and may be more guarded about their questions. Sometimes podcasts are live broadcasts, but others will be pre-recorded – and so any mistakes on your part can easily be corrected or erased in the edit. If you can, watch a couple of earlier episodes, to get a feel for the show's style and format. This way it won't be a total surprise when there are three other guests present, for example.
A prompt response
If you are being interviewed about yourself and your work and career, you might be able to wing it, but if you are talking on a subject, it'll help to do some 'revision' first. Either way, it's best to have some notes prepared, even if they are just a few scribbles out of camera shot that you can refer to, when other people are taking the floor. If you know the host's questions in advance, you can scope out specific answers on paper as prompts. If you have your laptop set up on a riser or stand on a table, it's easy to scatter a few pages of notes nearby – or even stick them to the wall in your eyeline. Having some reminders is particularly useful if there are specific products, people, issues or items you'd like to reference or promote in your podcast by name. If you're talking about a product, props may be appropriate too.
When you're on, keep calm and try not to let any nerves show. A bit like when you go for a job interview, try to be natural, try to be yourself and try to relax. Once the podcast starts, you'll soon forget you can be seen by an audience and simply enjoy the experience.