Torch Arrives in Historic City
(Posted on 05/06/12)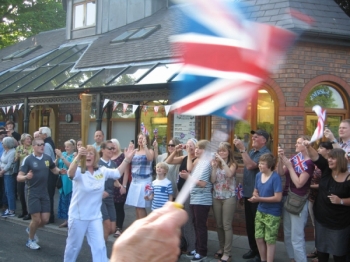 This week Chester hosted the Olympic Torch and thousands turned out to witness once-in-a-lifetime scenes, as the torchbearers and entourage made their way though Chester's historic streets and landmarks.
On the evening of Tuesday 29 May 2012, the torch arrived in Handbridge on its way to the Olympic opening ceremony on 27 July. Old Dee Bridge was closed to the public and a Roman soldier guard of honour greeting the torch carried by Alexander Staniforth below Chester's Roman wall.
http://www.youtube.com/watch?v=FuTZJt0KZik&feature=related
The torch then continued – without its vehicle retinue – along the riverside Groves, which were packed with onlookers. There was a relay changeover outside Hickory's. The torch then travelled up through Grosvenor Park to the Roman Amphitheatre, where another changeover took place. The torch then moved up John Street, to the Eastgate Clock, where the streets were packed with cheering supporters. Every other spectator seemed to have a whistle or flag or clattering Samsung bam-bam.
http://www.youtube.com/watch?v=ekbr6oJQbLM&feature=related
It passed the Cathedral into Town Hall Square to meet the Royal Family of Giants, then down Northgate Street:
http://www.youtube.com/watch?v=sE7a5NQeVjY&feature=related
It was then on past the Cross to Watergate Street and onto the Roodee Racecourse. The widely-travelled Olympic torch has traversed the country to some remote spots and in many forms of transport. Earlier on Tuesday, the flame had been to the summit of Mount Snowdon and later in the week it took a Ferry across the Mersey, from Birkenhead to Liverpool. In Chester, the torch was carried on the Roodee Racecourse by jockey Jason Maguire and 2011 Chester Cup winner Overturn:
http://www.youtube.com/watch?v=NmHGOH70VNY&feature=related
Greeted by Chester's Lord Mayor, Cllr Pam Booher, Jason lit the Olympic Cauldron. A crowd of 25,000 had gathered to greet the torch and witness the festivities, including music, dance and fireworks, which were a spectacular four-hour celebration of the torch's arrival.
http://www.youtube.com/watch?v=OHvK7zeI2GI
The weather was glorious and the population of Chester turned out in force, with a 'Park and Ride' service provided and many bus companies extending their services later into the night than normal to cope with the increased demand. The following day, the torch made an early start from the Suspension Bridge over the River Dee at the Groves and set off for Wrexham on the next leg of its countrywide trek.