Vino, Vidi, Vici – The Big Chester Wine Quiz hailed a success
(Posted on 04/10/11)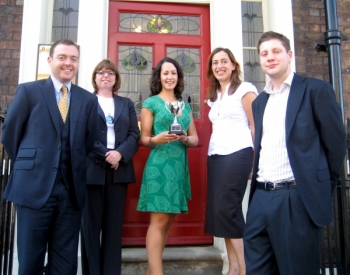 We raise a toast to the winners of this year's 'The Big Chester Wine Quiz', which was held on Thursday 22 September 2011.
Co-hosted by two Chester businesses, fine wine merchant Cantina Caputo and Zebra Marketing and Communications, the event took place at the Chester Guildhall. 18 teams took part and the quiz was won by one of two teams from leading law firm Walker Smith Way. Other teams included representatives from accountancy firm McLintocks, West Coast Energy and Bank of America, who were tested over a series of rounds, including questions on Chester history and general knowledge. However, possibly the most popular round was the wine tasting, where teams were required to identify the grape and country of origin of five mystery wines.
£400 was raised on the night for local children's charity, Empowering Youth Foundation, and the evening was an opportunity for local businesses to get together in a relaxed environment.
Commented Holly Nelson, marketing manager at Walker Smith Way and captain of the winning team: "We were delighted to have won the quiz and be presented with the trophy. It was an excellent event and we will be hoping to retain the cup next year!"
Clara Hughes, director at Zebra Marketing and Communications added: "This was an exciting joint venture for our two companies. Quizzes are always popular events and we thought it was a good idea to incorporate a wine tasting element as well. We hope to make this an annual event and look forward to an even bigger array of teams next year."
For further information about either of the host companies or details of next year's event, please contact Paul Caputo at info@cantinacaputo.com or Clara Hughes at clara@zebra-comms.co.uk .