We are 10! Celebrating 10 years of Zebra
(Posted on 21/07/20)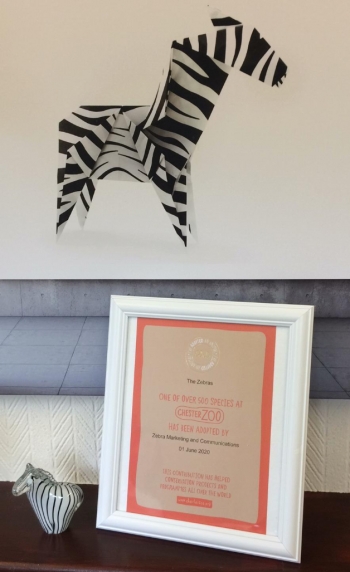 This summer, Zebra Marketing and Communications was delighted to celebrate 10 years in business.
Zebra started in 2010, and since then we have worked with a huge variety of clients in a wide range of sectors. We have been pleased to provide our expertise and services; from PR to social media and event management, to help them reach their goals and target audiences. Our work has won awards for Zebra and for our clients too.
We've been delighted to have worked with some of our key clients since the beginning – a true testament to our skills and dedication, and we are thrilled to be welcoming new clients on board too.
As part of our birthday celebrations, we became a proud adopters of the majestic herd of zebras at Chester Zoo. We are delighted to be supporting the zoo, especially in these difficult times when the zoo came so close to shutting its doors forever. We can't wait to organise our team trip there soon.
On our birthday, despite the lockdown still being in place, a surprise delivery of a box of delicious cupcakes, made by local talented designer Tilly Scrumptious, was received by each member of the team at their respective homes. Topped with edible icing images of our logo and zebra mascot, they were happily devoured as we continued to support our clients, working remotely.
Skip forward to the present day, and we are pleased to report that our whole team has been able to reunite back at Zebra (socially distanced of course).
More exciting developments for Zebra are soon to follow, with our new-look website currently in development, so watch this space!
In the meantime, we wish to say a huge thank you to all of our clients and partners, past and present, who we have worked with over the past 10 years. As the restrictions lift and the 'new normal' becomes more normal, we hope to celebrate our 10th Birthday with you all in style soon.