Zebra client achieves internal communications recognition
(Posted on 12/12/11)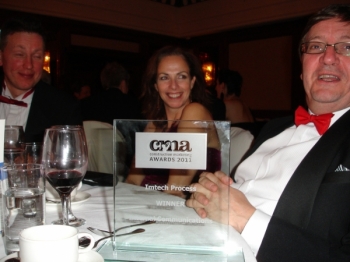 Zebra Marketing and Communications' (Zebra) client, engineering contractor Imtech achieved industry recognition recently for its internal communications at the Construction Marketing Awards.
ZMC provides full internal and external communication services for Imtech Process, and the company's internal communications scooped the award for best 'Internal Communications Strategy' at the Construction Industry Marketing Awards that took place at The Radisson Blu Portman Hotel in London on Tuesday 29 November 2011.
The Awards, run by the Chartered Institute of Marketing Construction Industry Group (CIMCIG) recognise and celebrate the best and most innovative marketing campaigns in the construction industry year. Fifteen categories of marketing excellence were recognised on the night.
Zebra works with Imtech to develop its internal communications strategy, which includes a full programme of activities such as its internal newsletter and monthly email bulletins to ensure that regular business information is shared with the internal team, and various team meetings to ensure everyone has the opportunity to input into the business and develop true 360° communication.
On receiving the award, Bruno Speed, managing director at Imtech Process commented: "This award is one of a number of highly prestigious accolades that the company has received this year and we are thrilled that our team's work has been recognised. Internal communications is vital to the success of the business – as our most important asset is our people. However, this is only the start and we have plans to continue to develop our internal communications going forward."
Added Clara Hughes, director at Zebra: "I am delighted that Imtech has received this recognition. As a team we have worked very hard to develop an internal communications strategy where all Imtech's staff feel valued, informed and have the opportunity to make their voices heard. The internal communication strategy will continue to develop year on year."