Zebra picks up award in San Francisco
(Posted on 09/07/12)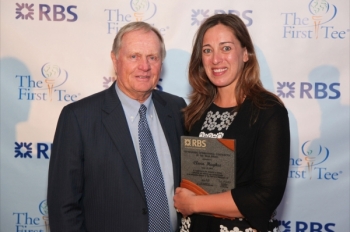 Clara Hughes was presented with The First Tee's most prestigious award for volunteers, 'RBS International Contributor of the Year,' by none other than golf legend Jack Nicklaus!
Earlier this year, Clara Hughes, Director of Zebra Marketing, was nominated for the award by UK children's charity, Empowering Youth Foundation (EYF) for her dedication to helping disadvantaged youth learn life skills through sport. She learned of her win in May and was flown out to San Francisco in June to pick up her award at the gala event hosted by The First Tee supporters Royal Bank of Scotland. The awards ceremony was held in conjunction with the premier of the Jack Nicklaus documentary, '1962 Open, Jack's First Major' held at the De Young Museum in the beautiful Golden Gate Park.
The Outstanding International Contributor of the Year Award recognises a volunteer from The First Tee who has gone above and beyond the call of duty in support of international chapter activities. EYF nominated Clara for this prestigious award for her consistent support and dedication to the charity since its formation in 2008. Through its Life Skills Experience programmes, EYF has reached over 5000 vulnerable youths in the UK. Clara commented: "I was so overwhelmed when I heard the news that I had won the award. EYF is very close to my heart and I was so honoured to be nominated, let alone win! The celebratory dinner was amazing. Having Jack Nicklaus, a founding ambassador of The First Tee present me with my award was so exciting and it was such a pleasure meeting other members in The First Tee Network, Jack and members from RBS. A night I'm sure I'll never forget."
The First Tee is an initiative of the World Golf Foundation, a non-profit organisation based in St. Augustine, Florid World Golf Village. Its mission is to impact the lives of young people by providing learning facilities and educational programmes which promote character development and life-enhancing values through the game of golf. EYF provides The First Tee programmes in the UK to disadvantaged youth and children with both physical and mental challenges.
Dawn Roberts, Executive Director of EYF, added: "I couldn't think of a more deserving recipient for the award. Clara is a passionate member of our board of directors, an instrumental fundraiser and role model for the youth in our programmes!"