12 months of Zebra – a look back on 2020
(Posted on 02/12/20)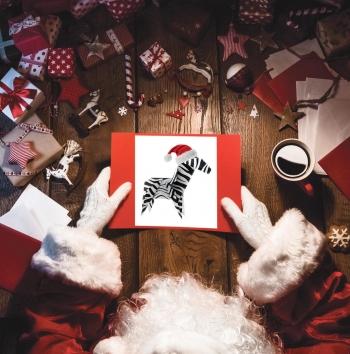 2020 has certainly been a year that has defied everyone's expectations. With the current global pandemic turning people's lives and businesses upside down, we have all been having to find new ways of working; whether that's at home, or in a safe, socially distanced work space.
Despite all the uncertainties, we have still had a busy year at Zebra and have celebrated many highlights throughout the year. Here's a selection of some of our favourite achievements over the last 12 months.
January
In anticipation of the new year, we enjoyed looking ahead to all of the good things to come. We celebrated our 10th birthday, as did our clients Forge and Career Evolution, and Stick n Step celebrated a special milestone too. We were also beginning to plan and organise attendance and marketing collateral for leading events later in the year, such as the world-famous Farnborough Air Show for our client Merit Holdings, and also to consider growing our team to meet the demands of our expanding client list.
February
Our newest member of the Zebra team, Kathryn, joined us in February, bringing a multitude of skills and expertise across PR, social media, SEO, design and copywriting. We also enjoyed working with our client RoyalHaskoning DHV on the production of the first of a number of White Papers for Aquasuite. This AI-powered tool is designed to address key challenges and concerns facing the global water sector. It is very exciting to be involved with the development of this 'virtual operator', which automates repetitive activities and improves performance, increasing productivity and reducing costs for utilities and related industries.
March
We were delighted to pitch for, and be awarded, Abbey England's marketing account. Abbey England is a market leading wholesale supplier of premium materials and tools to businesses around the world. March was also, of course, when the first UK-wide lockdown began. We swiftly adapted our traditional ways of working so we could continue to provide assistance and support to our clients remotely, thanks to the power of Teams, Zoom and Skype (other platforms are available!).
April
We prepared the Guernsey Private Wealth Report in April for Gibson Strategy, with the Isle of Man Private Wealth Report hot on its heels. These independent research studies share expert views, insights, and experiences in the context of the private wealth sector in Guernsey and the Isle of Man.
We were also thrilled to achieve some great coverage this month for our cable manufacturing software provider client Cimteq. The company made the BusinessCloud publication's Wales Tech 50, a ranking of the country's most innovative technology creators. This secured a key feature in Cable Technology News.
May
We successfully pitched for, and won, the Mowbray Education Trust rebrand project. We also secured some great coverage for one of our oldest clients, Stick 'n' Step, in which a six year old sports enthusiast set himself the task of running a marathon distance of 26 miles to raise money for the charity that supports his cousin. This was part of the 2.6 Challenge, a campaign to save the UK's charities, and was picked up by four key local news outlets, including Oldham Times, Oldham Chronicle, Wirral Globe and In Your Area.
June
In June we were delighted to celebrate 10 years in business! Since forming in 2010, we have worked with a huge variety of clients in a wide range of sectors, many of whom have been clients since the beginning – a true testament to the dedication of our team. As part of our birthday celebrations, we became a proud adopter of the majestic herd of zebras at Chester Zoo. Despite the lockdown still being in place, a surprise delivery of a box of delicious cupcakes was received by each member of the team. These were happily devoured as we continued to support our clients, working remotely.
July
We donned our wellies and directors' hats as we began overseeing the filming of one couple's self-build dream with our self-build developer client CB Homes. We can't wait to complete the series of video journals and see the finished house. July was also a happy month, as it marked the return of all employees to our Zebra offices. We have expanded the Zebra office to accommodate our growing team, while also putting in place essential social distancing and safety measures.
August
We were pleased to commence working with The Forshaw Group, property restoration specialists. From creating and managing its social channels, to providing weekly blog articles and information, we are thoroughly enjoying this partnership. Over the Bank Holiday weekend, the team at The Forshaw Group took the plunge to raise charitable funds with The Great Glen Swim Challenge 2020. Totalling a colossal nearly 50 miles of swimming across Scotland over three days, the event was held by Tri-4-Life as part of its 20-year anniversary celebrations, raising over £500. We gained some great coverage for them with Knowsley Chamber. Our new-look website, or Zebsite, also went live this month, bringing a fresh look to our existing site, with plenty of new content and more regular blog articles, such as this one!
September
Our cerebral palsy charity client Stick 'n' Step turned 18 in September, celebrating its 18th anniversary of supporting children and young people from across the North West. Stick 'n' Step has been a Zebra client for more than seven years, and is one which we are particularly proud to support, by promoting the charity's fundraising efforts and helping raise its profile across the region with local and broadcast media.
We welcomed our new surveying client Powers and Tiltman on board, and we look forward to continuing to work together through 2021. We also helped with a company launch for Bespoke Immigration Consulting, which offers a complete visa consulting package, empowering people to complete applications for U.S. family-based visas. We are also very proud that our client RoyalHaskoningDHV was named the Global Water Awards 'Water Technology Company of the Year' for 2020.
October
We assisted Abbey England with launching its new 'Podcraft' series, dedicated to discussing industry insights with fellow suppliers, customers and leading industry experts. We secured key coverage and listeners in the equestrian media, including online and in print with a double page spread in Equestrian Business magazine.
Our client Royal HaskoningDHV's also showcased its new video at EWWM to help with the launch of Nereda® Package Plants, which provide high-quality sustainable wastewater treatment with biological phosphorus removal at small works serving between 300 and 10,000 people.
November
We were thrilled that our client CB Homes was shortlisted for both the LABC and Build It awards, leading accolades in the property sector, and we look forward to submitting more winning award entries for them next year.
We also supported Capenhurst-based specialist engineers EA Technology to promote the results of its ground-breaking, £5.5 million, three-year project, OpenLV. This explored how distributed intelligence in substations can directly benefit network operators, and the potential benefits of making local electricity data available to businesses, universities, and community groups – and how these both might benefit the transition to Net Zero carbon emissions. The OpenLV project team presented its findings to key community stakeholders via two webinars at the end of November, and we secured key coverage promoting these, including Electrical Times and Electrical Contracting News.
December
This month, we have prepared the last article in this year's series of 'Ask the Experts' for Forge Property Consultants and we've been busy preparing a new e-newsletter for Career Evolution, as well as for The Forshaw Group and ourselves, so keep a look-out for it in your inbox soon (to sign up to our Zebra e-newsletter please email info@zebra-comms.co.uk).
No matter what the New Year has in store for us, we wish you all a Happy Christmas and the hope that 2021 brings a return to normality for us all.