Animal Printz - our favourite animal brand logos - Part 1
(Posted on 20/01/21)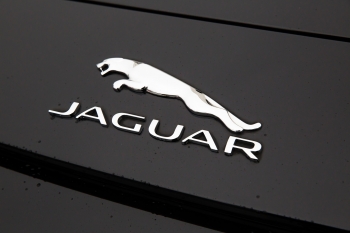 Images of animals have long been used as indicators of company brands – just like our own origami Zebra logo. When you think about some of the best in their fields, companies that use animals as their brand often surge ahead of the rest. Be it that feathered celebrity The Famous Grouse and Alfa Romeo's snake, or the MGM or Peugeot lion, animals provide a strong, recognisable image that we can associate with the brand name.
We're not going to swan around, as we've got otter things to be getting on with. But we've been badgered into revealing what we think are our Top 10 brands that use an animal design as their logos. Here's our first five:
Jaguar
One of the most recognisable of all car brands is the leaping Jaguar brand. This high-performance car brand, founded in Coventry in 1922, is now a division of Jaguar Land Rover owned by Tata Motors, which purchased it from Ford in 2008. The Jaguar logo was designed to symbolize 'grace, elegance, performance, power, and the ambition to leap forward', which were the core values Jaguar represented.
The car logo, leaping from the bonnet of a car, can't be missed, as it is often an actual figurine of the animal fashioned in chrome. Due to safety regulations that prohibited the use of bulging bonnet ornaments, Jaguar later moved the leaping cat logo from pride of place to a badge at the rear of the vehicle.
Lacoste
Get me some sports gear and make it snappy! Lacoste was founded in 1933, when René Lacoste and André Gillier revolutionised the tennis shirt by replacing classically woven, long-sleeved tops with what has now become the classic Lacoste polo shirt. Known for its iconic green crocodile logo, the French brand offers modern sporting-themed clothing and footwear for men, women and kids.
The crocodile logo was born during a tennis game in the early 1930s. René Lacoste spotted a crocodile skin suitcase in the store window of a nearby shop and wanted to buy it, so made a bet with the captain of the French Davis Cup team, which had to buy it for him if René won. René lost, but the nickname stuck as the press and public began referring to René by the nickname 'crocodile'. René then had a crocodile embroidered onto his court blazer and then when he founded Lacoste clothing, it became the brand's logo.
Disney
We don't want to take the Mickey, but the logo for Walt Disney Productions, otherwise known as Disney, isn't actually an animal. Walt Disney's most famous creation Mickey Mouse and his famous ears have been used on signage and we all naturally think it's the company logo, particularly the distinctive mouse ears silhouette. It is very much a part of the Disney brand and it's interesting that the strength of the imagery is so memorable that we forever associate it with the company, its films, cartoons, characters, theme parks, shops and merchandise.
However, the actual Disney logo is Cinderella's castle, from the 1950 film of the same name. The castle, with fireworks and the song 'When You Wish Upon a Star' from Pinocchio (1940) also appears at the beginning of its films and other productions. The company has grown over the years to become a vast entertainment business – its film studio division Walt Disney Studios includes Walt Disney Pictures, Walt Disney Animation Studios, Pixar, Marvel Studios and Lucasfilm.
Red Bull
It may give you wings, but Red Bull definitely tramples the opposition when it comes to competitive edge. Red Bull is an energy drink sold by Red Bull GmbH, an Austrian company created in 1987. It has the highest market share of any energy drink in the world, with 7.5 billion cans sold in a year in 2019.
The company's logo features two charging red bulls, which originates from the business's South Asian roots. Austrian entrepreneur Dietrich Mateschitz took his inspiration from an existing energy drink in Thailand, called Krating Daeng, which was sold by Chaleo Yoovidhya. For Red Bull, Mateschitz modified the ingredients to suit Western tastebuds and in partnership with Chaleo, founded Red Bull GmbH in Chakkapong, Thailand. The Western version is a translation of the Thai name – daeng means red and a krating is known in English as a gaur or Indian bison, native to South Asia.
Firefox
Firefox, or Mozilla Firefox to give it its full title, is a free and open-source web browser – like Google or Explorer – developed by the Mozilla Foundation and its subsidiary the Mozilla Corporation. It was founded in 2003 and is currently based in the Silicon Valley city of Mountain View, in California, USA. The foundation itself is a non-profit organization that 'promotes openness, innovation and participation on the Internet.'
Its distinctive logo features a bright orange fox and his tail, curved around a blue sphere. Except that it isn't a fox. The 'firefox' animal depicted in the logo is actually a red panda, which is a protected species in Asia. A mistake when translating red panda from Chinese into English is how it became a 'firefox'. The logo has looked the same since 2004 – a red panda encircling a blue globe representing Planet Earth.
Stay tuned for Part 2!