Latest news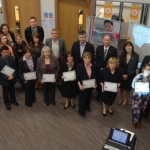 (Posted on 04/06/13)
This morning, Friday 10 May, Clara Hughes received an 'Excellence in Partnership' award for Zebra's affiliation with the GO Wales programme, as a host company for Welsh graduates. The awards were presented by Lesley Griffiths AM and Dr Allan Howells, Pro Vice- Chancellor of Glyndwr University. The breakfast event was held in the Creative Industries building at Glyndwr University to celebrate the 10th Anniversary of GO Wales. GO Wales is a European... Read more...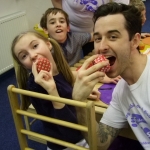 (Posted on 24/04/13)
Comic Relief raises an amazing amount of money every year to help charities in Africa as well as those based here in the UK and this year was no exception. Its campaign surrounding Red Nose Day 2013 raised over £75 million, smashing last year's total of £74.3 million. This year also saw Zebra supporting one of the Comic Relief chosen charities, Stick 'n' Step, with its PR activities. Stick 'n' Step provides free specialist conductive... Read more...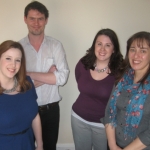 (Posted on 05/03/13)
We're pleased to welcome Siân Edwards, the latest addition to our busy team. Siân has come to us on a Go Wales placement from Glyndwr University, with an Honours degree in Drama and Theatre Studies gained at Aberystwyth University and a professional development award in marketing. Along with her specialist industry experience in live events marketing and administration, she is already proving to be a great asset to the team! If you have not met... Read more...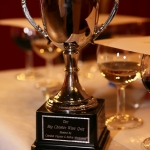 (Posted on 26/02/13)
You heard it from us first, it's back! Zebra Marketing and Communications, in conjunction with Chester fine wine merchant Cantina Caputo announces the return of its third annual 'Big Chester Wine Quiz'. Take your chance and see if you can knock the joint reigning champions, Walker's Winos of Walker Smith Way and WASP, off the top spot. You can expect a five star evening welcome drink on arrival, wine tasting, raffles, quizzing... Read more...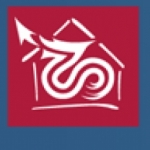 (Posted on 06/10/12)
Clara Hughes, Director of Zebra Marketing & Communications, was invited to speak at this year's Community Housing Cymru Group's PR & Communications Conference 2012. This two-day event took place on Wednesday 26 and Thursday 27 September at the Ramada Plaza Hotel, Wrexham. Both days were filled with workshops, talks and presentations, as well as social opportunities to network. The conference's Chair, Phillipa Davies, aka Mrs Motivator... Read more...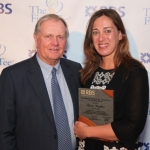 (Posted on 09/07/12)
Clara Hughes was presented with The First Tee's most prestigious award for volunteers, 'RBS International Contributor of the Year,' by none other than golf legend Jack Nicklaus! Earlier this year, Clara Hughes, Director of Zebra Marketing, was nominated for the award by UK children's charity, Empowering Youth Foundation (EYF) for her dedication to helping disadvantaged youth learn life skills through sport. She learned... Read more...